Industrial Crusher
Waste processing equipment, plastic cutting machine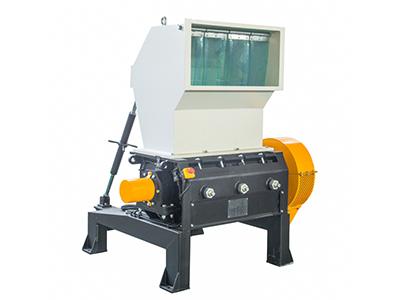 SOYU's crusher is designed to further crush particles that have already been pre-shredded by industrial shredders. The crusher is mainly used in the plastic industry and features a discharge particle size of 10-12mm. The overall welded steel structure satisfies the strictest size reduction requirements. The "V" rotor cutting technology significantly improves the processing efficiency and reduces dust and powder generation.
Differing from standard crushers, a large selection of rotors and hoppers with different structures are available to fit your material and crushing demands. A mute device, material discharge system, abrasion-resistant protection device and surface-hardening treated rotor are optional upon request.
Features
The crusher is welded using superior reinforced steel plates, featuring a compact and robust structure, high durability and stability.
Blades are made from CrMoV abrasion-resistant alloy steel.
The split machine design makes blade replacement and maintenance easy.
Replaceable abrasion-resistant liners are mounted on the rotor double sidewalls.
High performance bearing coefficient: The outboard bearing effectively prevents dust from entering the bearing and reduce its damage rate.
Screen units with a variety of structures and hole diameters are available to choose from. Applicable to a broad range of applications.
The hopper features an APO function to ensure operator safety. A motor drive or hydraulic drive hopper opening method can be chosen for easy maintenance.
Optional shafts
Different shafts are suitable for crushing different materials, with the following 3 primary types: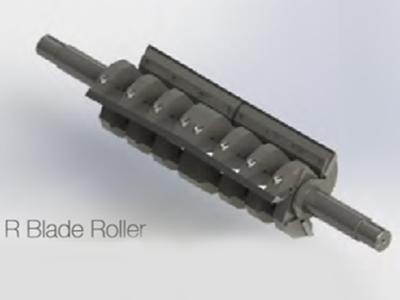 R shaft:The front-mounted blade design withstands large impacts. Only two cutting points exist between the shaft and each row of fixed blades. The R shaft is ideal for crushing harder tubes, thicker sheets and objects with a thick wall.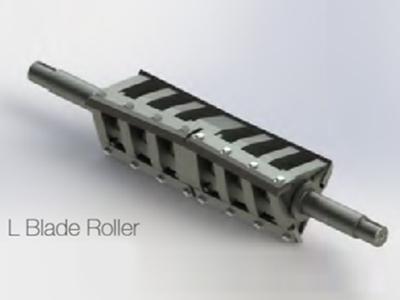 L shaft: the spacing between blades is bigger and the materials can be involved into the rotor blades, allowing the shredder to quickly catch and crush the materials. The L shaft is suitable for processing bottles and films.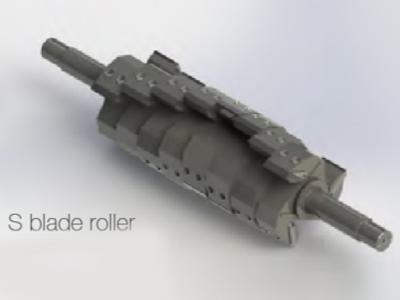 S shaft: solid cutter blade can prevent materials from falling into the rotor blades. Larger cutting impacts can be withstood. The S shaft shredder is appropriate for crushing super-hard materials like thick walled tubes and thick plates.
Parameters
Model
Main parameters
Motor
Rotor diameter
Number of rotor blades
Number of fixed blades
Main shaft speed
Screen holes diameter
Ram dimensions
Cutting chamber dimensions
Overall dimensions
Weight
SPC6015
15KW
φ260mm
3x2pcs
2x2pcs
591rpm
8mm
600x400mm
634x350mm
1480x1330
x1740mm
About 890kg
SPC6015T
15KW
φ320mm
3x2pcs
2x2pcs
438rpm
12mm
600x400mm
634x350mm
1490x1380
x1710mm
About 1485kg
SPC8022
22KW
φ320mm
3x2pcs
2x2pcs
627rpm
12mm
800x400mm
834x360mm
1590x1590
x1810mm
About 1750kg
SPC8037
37KW
φ420mm
3x2pcs
2x2pcs
466rpm
12mm
1000x500mm
834x480mm
1770x1640
x2430mm
About 2900kg
SPC10045
45KW
φ420mm
3x2pcs
2x2pcs
466rpm
12mm
1000x500mm
1034x480mm
1770x1830
x2430mm
About 3300kg
SPC10055
55KW
φ520mm
5x2pcs
2x2/2x3pcs
462rpm
12mm
1000x700mm
1034x670mm
2070x2050
x2990mm
About 4300kg
SPC12075
75KW
φ520mm
5x2pcs
2x2pcs/2x3pcs
462rpm
12mm
1200x700mm
1234x670mm
2230x2070
x2990mm
About 5500kg
SPC12090
90KW
φ660mm
5x2pcs
2x2/2x3pcs
462rpm
12mm
1200x900mm
1234x811mm
2410x2600
x3380mm
About 7800kg
SPC160132
132KW
φ660mm
5x4pcs
4x2/4x3pcs
415rpm
12mm
1600x900mm
1634x811mm
2450x2850
x4300mm
About 10000kg
SPC160160
160KW
φ660mm
7x4pcs
4x2/4x3pcs
415rpm
12mm
1600x1000mm
1634x811mm
2980x3000
x3610mm
About 11000kg
SOYU provides a wide selection of industrial shredders and crushers to satisfy your material size reduction requirements, which feature stable performance, high production efficiency and easy maintenance. We pay attention to every detail of the machine to help you improve productivity, save energy and maximize economic benefits. In addition to standard industrial shredder and crushers, customized size reduction machines can also be offered according to your material shredding requirements. A variety of screens and rotors are selectable to achieve the best processing performance.