About us

Changshu Shouyu Machinery Co. (SOYU) is a Chinese-Italian joint venture concentrated on the production of high-quality waste processing equipment. Relying on many years of experience in the production of shredders and crushers, SOYU is capable of providing our global customers with highly efficient, durable, and unparalleled crushing, separation, and recycling equipment. These products deliver a highly competitive price to performance ratio.
SOYU has passed ISO9001 quality management system certification and has obtained more than 10 national patents. We produce various types of crushing and separation machines in strict accordance with CE standards. Some of these products include single shaft shredders, two shaft shredders, and four shaft shredders. Our shredders and crushers are mainly used for materials recycling, waste shredding, and other applications for solid standard waste, hazardous waste, RDF, carcass disposal, medical waste, electronic scrap, plastic, paper, metal, and much more. We have established a globally spanning business network operating in over 50 countries and regions. Our products have been widely praised by our customers due to their high performance.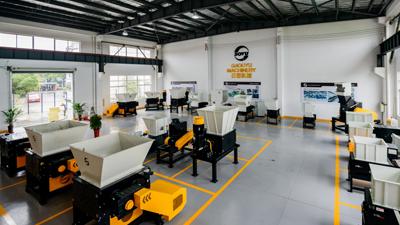 For more than 10 years, Changshu SOYU has been involved in the Chinese recycling industry. We have assembled a well-trained, skillful, and dedicated R&D team who has made significant contributions to the industry, offering customers stable and energy saving waste size reduction machines. No matter your application, whether it be plastic shredding, materials recycling, or solid waste crushing, SOYU has what you need to provide you with a best fit solution including installation, adjustment, and maintenance, making us a perfect partner.
SOYU maintains a strict adherence to the business principles of professionalism, concentration, and quality. We have implemented a strong quality management control system that ensures raw materials purchasing, manufacturing, and after sales services are all carried out according to our strict standards. We employ a mature after sales service team and a technical staff that has the experience and skills to provide you with superior 24/7 services.
Agent Recruitment
SOYU Machinery Agents all over the world
Our company is Changshu Shouyu Machinery Co., Ltd, expert of design, research, manufacture and sale in shredding& sorting equipment. We are seeking for more worldwide agents to sell our shredding and sorting equipment.
If your company has experience or knowledge of crushing, recycling or environmental- protection machinery, please complete the following form to express your idea about how to become our agent, meanwhile,please contact us by email: .
*Please note all the information given is confidential and shall not be disclosed or transferred to any third party.