Scrap Metal Recycling Plant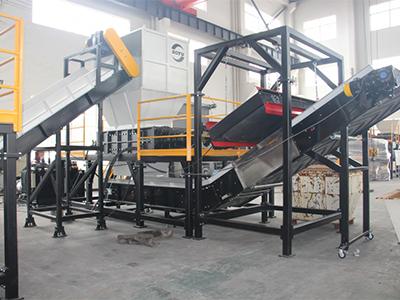 The scrap metal recycling plant is designed to crush, separate and recycle metal in scrap iron, steel, aluminum, motor enclosures and more. The recycling capacity reaches 10-20t/h.
According to the material's features and other production requirements, SOYU will customize a scrap metal recycling solution for your needs, with the right machines and devices used to help you save energy and reduce the machinery footprint. The customized recycling machine also features a durable structure with standard operating procedures.
Various metals can be effectively recycled.
Features
A variety of cutter blades are available. The "VZ" arrangement blades are suitable for coarse crushing metal while the overlaying blades deliver a high capacity, long service life and easy maintenance.
The output and the granule size can be determined based on your needs.
Reasonable structure, stable running, low energy consumption and high production efficiency.
SIEMENS PLC control and dynamic monitoring in real time.
SOYU provides a wide selection of industrial shredders and crushers to satisfy your material size reduction requirements, which feature stable performance, high production efficiency and easy maintenance. We pay attention to every detail of the machine to help you improve productivity, save energy and maximize economic benefits. In addition to standard industrial shredder and crushers, customized size reduction machines can also be offered according to your material shredding requirements. A variety of screens and rotors are selectable to achieve the best processing performance.