Refrigerator Recycling Plant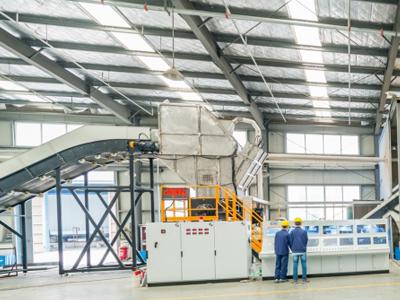 The refrigerator recycling plant is mainly used to recycle refrigerators in which the compressor has been removed. Copper, aluminum and other nonferrous metal, plastic and foam can be separated and recycled. The recycling capacity reaches 15-100 refrigerators per hour.
Four shaft refrigerator shredders and secondary hammer crushers are used to crush refrigerators, while the foam crusher is used to shred foam.
Foam and dust are removed using air classification equipment and materials containing iron are separated by magnetic separators.
Eddy current equipment is used to separate ferrous and nonferrous materials.
An activated carbon filtration gas treatment and dust collection system are equipped inside the recycling plant.
This recycling plant also features PLC control and real-time dynamic monitoring, ensuring a low energy consumption and high throughput.
The recycling plant is also ideal for recycling other e-waste, such as air conditioners, computers, televisions, washers and more.
Recycling material
Nonferrous metals recovery rate: ≥95%
Scrap iron recovery rate: ≥96%
Copper recovery rate: ≥92%
Plastic recovery rate: ≥49%
PUR recovery rate: 91%
SOYU provides a wide selection of industrial shredders and crushers to satisfy your material size reduction requirements, which feature stable performance, high production efficiency and easy maintenance. We pay attention to every detail of the machine to help you improve productivity, save energy and maximize economic benefits. In addition to standard industrial shredder and crushers, customized size reduction machines can also be offered according to your material shredding requirements. A variety of screens and rotors are selectable to achieve the best processing performance.